Библиотека фонда: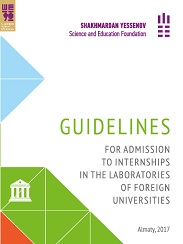 GUIDELINES 2017
For admission to internships in the labaratories of foreign universities
Mission: To develop Kazakhstan's intellectual potential
Since 2014, the Science and Education Foundation named after Academician Shakhmardan Yessenov has been implementing the scientific-educational program "Summer internships in world laboratories" for students who intend to apply for a Ph.D. in the future.
The purpose of the summer internships program in international laboratories is to expand scientific outlook of young Kazakhstani scientists as well as to identify, select and support those talented Kazakhstani students who are planning to be engaged mainly in research in the future and who have the required potential. The implementation of this initiative will allow Kazakhstan to increase the number of scholars enrolled in doctorate programs in the best international universities, as well as to grow a new generation of scientific manpower for our country.
The program will allow young people to gain the necessary practical skills to successfully apply for a Ph.D program and to work effectively to increase their level of knowledge of the English language.